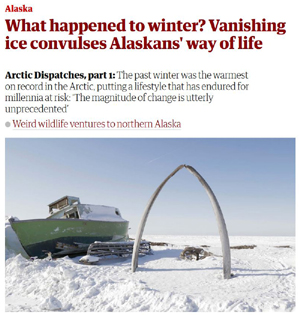 The Guardian has an on-the-scene take on this past winter in northern Alaska: What happened to winter? Vanishing ice convulses Alaskans' way of life.
The story's context:
The winter was the warmest on record in the Arctic, with sea ice extent hitting record lows in January and February.
The weather station closest to the North Pole spent more than 60 hours above freezing in February.
The temperature readings from the weather station in the northcoast town of Utqiaġvik were so freakishly high in December that the system automatically shutdown.
The story focuses on the Inuit, who are watching their ecosystem literally crumble around them. I can't say I'm unhappy about a threat to someone's ability to kill whales, but the impending end to a people's millennias-old way of life because of climate change is something we can all sympathize with.
The silver lining? Climate change denial only goes so far in the face reality. "For a reliably Republican state, polling shows unusual numbers of Alaskans are concerned about climate change…"